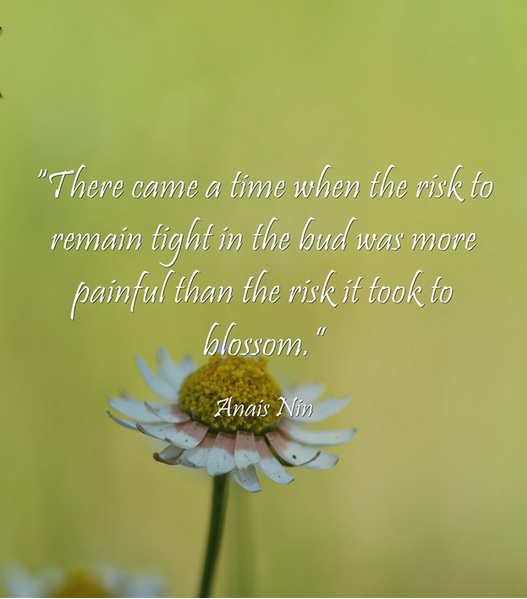 I LOVE this quote and use it often in my life and especially in my business.
It's reminded me so often to stop hiding, step up to the plate, and SWING at life with all I've got!

Ask yourself this:
What ONE thing am I holding back on in my business?
Why am I holding back?
What is it costing me to hide behind my risk aversion?
How is it affecting me in other areas of my life & business?
What are the actual risks?
Will those risks shut down my business if I fail at reaching the objectives I have in mind?
What will I GAIN from playing full out and taking on the risk?
Which is greater:  the pain of remaining 'safe' or the pleasure of jumping into the adventure?

If you choose to step outside the 'bud' and go for it, then simply:

Assess the greatest potential risk in case you miss your mark
Design a 'Safehouse Plan' for the potential downside should things fall short of intended success
Create the 'Go For It Plan' to plunge forward even in the face of potential 'failure'
Remember, the downside of failure to Launch is almost always greater than the downside of failure to make the mark!