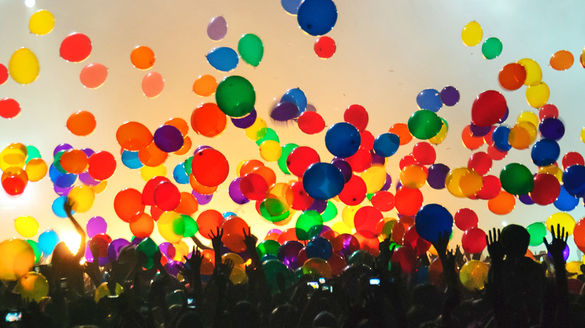 UPDATE @9:42am local time: Reached out to Jessie's Foundation to create awareness through my 2 TV shows locally and to create a team here to generate awareness and raise funds through my events.  Small action: a conversation.  Powerful impact: exponentially expand Jessie's mission in infinite possible ways. 
I was hosting the "St. Louis Presents" show as I do every week and my guest Kimberly Johnson of Naturally Fit Studio was talking about setting New Year's INTENTIONS rather than resolutions.
I like this idea!  So much that I shared my 2013 Intentions on the show.  I even started to enjoy one of them right there when we got to dive into artesan chocolatier Conor VanBusKirk's (VB Chocolate) truffles and gourmet hot chocolate!  Here are those intentions.

Eat organic and farm fresh as much as possible to heal my health

Enjoy small indulgences to experience more joy in my life
Make quantum leaps in what is my Legacy with small yet powerful actions
My eyes popped open at 4:23am to this thought. 
I spent my morning thinking about it. 
I was drawn back to a site I was directed to late last week, started by a young girl who unknowingly created her Legacy while in the throes of her battle with cancer.  Jessie Rees lost her fight at the age of 12 just one year ago this month.  But before she left, she created something amazing, something that lives on today – even when she's gone, something that touches lives from her hometown to many US cities to 11 other countries.  She started the Jessie Rees Foundation driven by her motto of "NEGU".  Never Ever Give Up.  It all began with her simple question while driving home from one of her days of cancer treatment.  She asked her parents about the children who couldn't go home that day.  When her father explained why they couldn't, she asked "How can we help them?"  And help them she did.  You can see her story here.
This beautiful young woman is my inspiration and everything I hope to be. 
She encouraged me to add another intention for 2013. 
But not for myself.
Intention #3 is to take small yet powerful actions all year long to make quantum leaps in my Legacy.
Because I'm committed to making a difference.
And if Jessie can do it while undergoing chemo and radiation, I can do it under any circumstances.
I've even become a member of Jessie's Joy Squad by pledging a meager monthly donation.
(It completely fits with my undauntable stand that "children around the globe know that they are loved, nurtured and accepted" which I began 10 years ago.)
So how about you?
How will you create your Legacy this year?  This day?  This moment?
Remember this:  it started with a simple question…"How can we help them?"  And then, with simple action.  Jessie got up and took the one action she could think of to reach out and spread joy to the children who weren't lucky enough to go home like she could.  She decorated paper lunch bags with markers and stickers and filled them with her own small toys and other items in the house that would bring joy and hope to the children in the hospital.  She "hitched" a ride with her parents to deliver the bags to the children.  You see, no sponsors, no funding, no government grants, no business plan, no team, not even able to drive…and yet…NO EXCUSES.  Simple action backed by compassion, love and a desire to do something for others.  Check out how her one seemingly small action has made a world of difference here at NEGU.
Your Legacy doesn't have to be about saving the world.  It just has to be about changing it.  Making a difference.  In any small way that fits into what you believe in.
Jessie believed in sharing smiles. And spreading hope.  And reassuring children they were not forgotten while in the hospital. 
It's as simple as this:

Get in touch with your Values (what you believe in so strongly it guides your every action, decision, conversation)

Ask yourself a simple question:  "How can I make a difference to spread more __________ (your values) around the world?"

What ONE simple action can you – will you – take TODAY that will begin the journey of your Legacy?
 HAPPY NEW YEAR…and N-E-G-U!