Does it drive you insane like it drives me insane when people sugar coat reality?
What IS it?
A reluctance to looking bad? To being perceived as unsuccessful or a failure?
A compulsive inability to tell the truth to themselves?
Or are they just plain ol' blissfully ignorant or in denial?
Baffles me.  I don't know whether to pity them or give them a strong headbutt to wake them up to the real world.
So I'm on the phone doing a Strategy Session with this prospective client, working to HELP her – as a complimentary gift!
And everything out of her mouth was:
"We did that already"

"We don't really need to do that"

"I did this before but it wasn't useful"

"That probably won't work"

You get the picture…
And I'm thinking…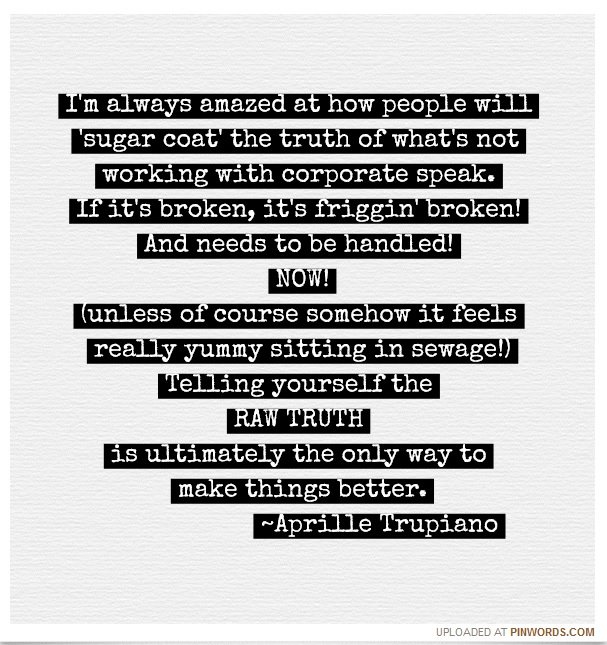 Because this lady reached out for ME! 
Mind you, I charge handsomely for my Strategy Sessions – because they work and sh*t gets done with velocity!!  On this occasion, I offered it as a GIFT because of a mutual relationship.
And I'm listening to her complain that:

Her Revenue is down heavily

Her store is empty and void of new customers

Customers haggle pricing with her or don't come back for more business

She's exhausted and doesn't know what to do differently to change things
And you can imagine I was thinking – "OF COURSE. But you've already 'done it all' and 'tried it all' already."
What I WANTED to say was a) are you hearing yourself?? I'm giving you viable SOLUTIONS to these problems & you keep acting as if you have NO problems; and b) if you have it all handled, then why the HELL are you wasting my time with your resistance and complaining?
Mind you, I calmed the voice in my head, was compassionate and listened, treating her with understanding because she was obviously BLIND to the truth.  Or not TELLING HERSELF the truth.  In either case, I couldn't help her.  No one could help her.  She wasn't ready for help because she was too busy convincing herself that she was doing "fine".  All her complaints were precariously veiled in corporate speak so it sounded (perhaps to her, but not to my trained ear) that she was doing all she could do and if she just waited it out, things would turn around.  I guess she thought the magic Business Fairy would sprinkle some fairy dust on her store and things would work out just dandy.
Now hoooooold up there.
IF YOU AREN'T WILLING TO BE BRUTALLY HONEST WITH YOURSELF ABOUT THE STATE OF YOUR BUSINESS AND YOUR LEADERSHIP, THERE IS NO ROOM TO EXPERIENCE MASSIVE SUCCESS.  (yes, that's me shouting it out in all caps!)
PERIOD.
Question for you:  Where are you NOT telling yourself the truth about your business?  How's it feel sitting in that sewage?