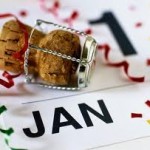 I was inspired by a fellow woman entrepreneur/blogger who wrote about her "5 Un-Resolutions" as she talked about the things she was going to resolve NOT to do in 2011.  What she said made absolute sense!  Think about it…the freedom that comes from removing things from your list.  Removing them from your "to do" list, from your "guilt" list, from your "expectations" list, from your whatever list holds you hostage in life and in business.  Whew…breathing easier just thinking about it.
So here are mine, in no particular order:
1) I UN-resolve to apologize for being uncompromising.
I'm often told I'm "picky" or a "perfectionist" in my work.  I sometimes re-examine things and question myself, wondering if I am indeed difficult or impossible to please. At the end of the day, I have to deal with myself and the work I've done, the service I've provided and the contributions I intended to make in doing so.  I refuse to apologize for being uncompromising in wanting to deliver the best of myself and my work to my clients.  I refuse to apologize for wanting the same from those few vendors I hire who ultimately serve my clients too (and represent my name and my brand as well).  I stand for excellence and I will not accept anything less for myself and for those whom I am privileged to serve.  We deserve it!
2) I UN-resolve to make excuses for my "education".
Every time I leave town for a Mastermind meeting or a training workshop or a seminar, I hear it from all over – especially those closest to me.  "You're leaving again?"  "Must be nice." "What do you really get out of those things?" "Are you making any money while you're there?"  The answers are (in order) Yes I am leaving again – and soon.  Yes it IS nice – fantastic as a matter of fact, to be able to be with people who "get" what I'm up to, inspire me, teach me, push me, challenge me, allow me to express myself fully.  I get much much more than the investment I make in myself and my business (which is worth every single dollar I put into it). And finally, Yes, I not only learn things, grow and develop myself but I often meet someone who turns out to be a client or someone with whom I joint venture and eventually make money!
3) I UN-resolve to honor others' expectations over my gut instinct.
Everybody always expects something.  And that something doesn't always coincide with what I feel is best for my business.  I have learned that when I worry about others' expectations of how it should look or how it should be or how I should be, then I feel tense, anxious, frustrated, un-motivated, confused.  On the other hand, when I do what I know in my gut is the best thing for me given the information I have at hand, I feel confident, joyous, energetic, happy.  Ultimately, while I value others' input and advice and learn from that, I am responsible for saying how my business goes!  It always turns out better when I follow my gut – and the ride is always much more fun and exciting.
4) I UN-resolve to feel guilty for working so much when I do it because I love it.
Let me be clear, I am a recovering workaholic.  I don't advocate that lifestyle for anyone.  I teach my clients how NOT to be a workaholic.  Let me also state clearly, though, that I LOVE LOVE LOVE what I do.  You know you're living your passion when you can pass hours and hours doing something and never notice the time or if you've eaten.  That's me when I'm working in my business.  This last year, I spent way too much time feeling guilty for "holing up" in my newly established office, enjoying the sunshine and my squirrel friends at my office window while I whizzed away the hours in my business.  2010 was a year of re-creation and re-design for my business and it's been glorious.  So long as I'm not neglecting the people I love, I will not feel guilty for doing the work I enjoy.
5) I UN-resolve to apologize for living into my dreams and creating a lifestyle I love.
As I've been re-designing and re-creating my business, I've begun to actually create the lifestyle I truly adore – working hours that fit my desires, setting fees that align with the value I provide, setting up business structures that support the way I want to do business, spending lots of time with family, lots of travel – for business and for fun, including international retreats and taking at least a month off to visit friends in Italy (I'm working my way up to three months per year

).  All the while, people keep acting like I'm nuts!  They have an attitude of "who do you think you are?" or "this can't last forever you know" or "you need to get serious".  Eventually, they'll get that I AM serious and I do intend this to last as long as it suits me and who I think I am – strike that, who I know I am – is the CREATOR and DESIGNER of my life!!  I have a plan.  I'm putting it into action daily.  This is how it shall be – because I say so and because I want it badly enough to do what it takes to have it.  And I'll not feel frivolous or indulgent about it one bit!
There you have it, my 5 UN-Resolutions for 2011.  I feel liberated already!  I give my readers permission to hold me to these, to check in on me and see if I'm walking my talk.
MORE IMPORTANTLY…
What will YOU UN-resolve to do this year to have the freedom to live life fully and design the business of your dreams?  Please leave comments and let me know so I can hold the space for you to have everything you desire in 2011.
p.s.  If you want to really start the new decade powerfully, you need to first start with a clear slate.  Complete my 3 simple steps to make way for all you truly desire and set yourself up for unprecedented results!  Click here to see a diagram of these simple steps.